Gather Your CS Designs digis and get ready to start creating
This will be your chance to win some of your Favorite Digital Stamps from the CS Design Shop.
Want to join in the fun ?
*** Remember you must meet all the requirements ***
to be eligible to Win!!! in the Big Extravaganza Contest. For all the details click HERE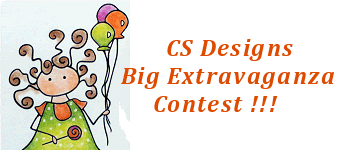 This is a Design Project I have done for my first week as a Guest Design Team Member over at
CS Designs
. This image is called
Celestial Goddess
and I chose to print the design out 4 times and reduce the size and layer them up. I like the look.
Here is a close up of the layers. I colored this with my copics on some Corde'nations Pearls card stock that I picked up at JoAnns. This stuff takes Copics like butter on toast. I know I said that about the last new paper I tried. Well this is great too.

Here is a shot so that you can get an idea of the shimmer of the paper.
So run on over to CS Designs and check out the great Digi Stamps that Chris has to offer and then get busy and join us for the EXTRAVAGANZA.
Have A Great Day Everyone.