Good Morning Everyone : I am so happy to announce that I am one of the Guest Designers this month over at
CS Designs.
I only recently discovered Chris' Images while at
Crafters Digital Art Center
and I'm so happy that I did. These are very fun images to work with.
This is also a great time to come and check out the
CS Designs Blog
and
Store
and join in the first ever Extravaganza!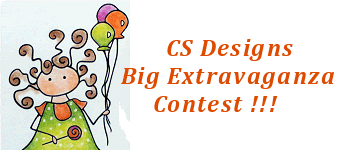 Coming March 1st CS Designs is hosting their first Extravaganza Contest,
so gather your CSD digis and get ready to start creating. This will be your chance to win some of your Favorite Digital Stamps from the CS Designs Shop.
Want to join in the fun? Check it Out !!!
You have almost an entire month for this one. You can create as many wonderful entries as you want so get out those CS Designs digis and inspire us with your art. :)
I wanted to share a few of the projects that I have done using CS Design images.
This first card highlights Cloe with her String of Stars. I used Basic Grey papers for this and I colored Cloe with my Copics and gave her wings a little sparkle with some Stickles. The Rose Spray is a Cut file from
Fred She Said
.
I haven't made one of my Bead Girlz for a long time and
Chris's Expressive Hearts #3
image just screamed out for one. I always love making these and I will be doing some more really soon.
These are hard to photograph but I think you can see the face really well here.
And here is one of the
Art Montage Series
I have used this along with a second Image to decorate a page in my Mini Album that I am working on. A perfect fit
Just love that flower. It is an SVG Cut File from
SVG Cuts
. That little cutie and her dog is me when I was just a tot. We went camping a lot when I was growing up.
Well I hope You come back often this month to see all the fun projects I make for CS Designs and work for My other Design Teams.
There Is Always something new and fun going on here.
Have a Great Day and Week.